Smooth X
Coming soon, contact us now

Like our facebook page and send us message to reserve yours

ZHIYUN SMOOTH X
SMOOTH-X is a gimbal made for everyone, thanks to its easy and simple operating system.
Don't need to worry that you're not a professional filmmaker or an amateur of filmmaking, or you don't
have a professional shooting gear, SMOOTH.X makes professional techniques easy to use and ensures you make
stable, smooth, and creative videos effortlessly with only a smartphone.
 
IMPORTANT NOTICE:
1.The Smooth X is rotatable design, so please open the Smooth x as the muanl show, or it would casue product been damaged.
2. Registration by ZY Cami App is required for first use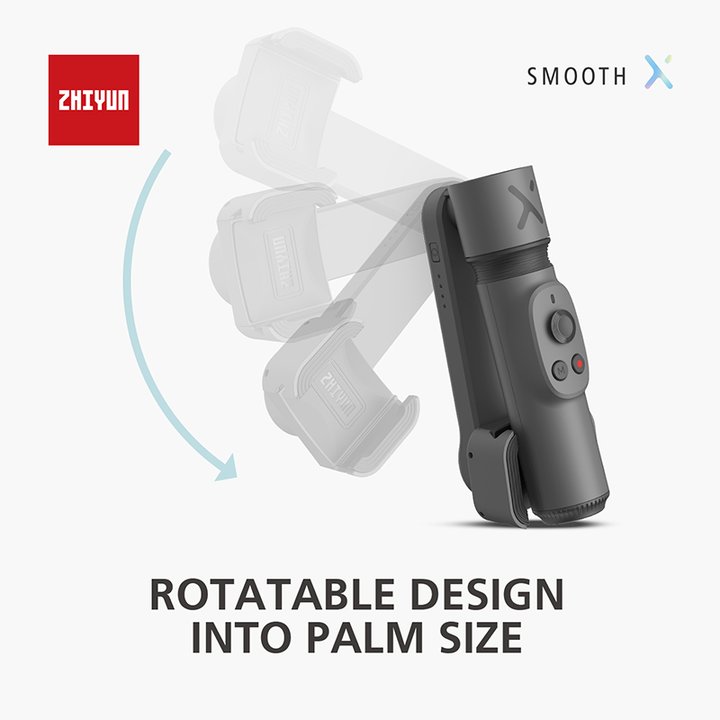 Ultimate Flexibility At Your Palm
A phone-size foldable gimbal weighing only 246g
easily fits into your bag even pocket and provides
urprisingly stable footage with your phone.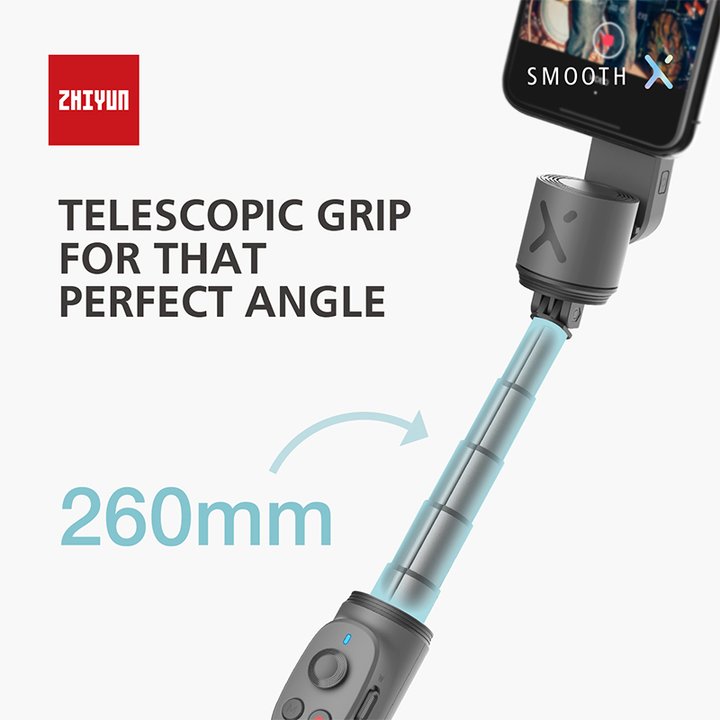 Extend For Having More Fun
The built-in Extend grip makes your "arm" longer
up to 260mm! Plus, a unique, rotatable motor axis
that can fold and hold its position at multiple angles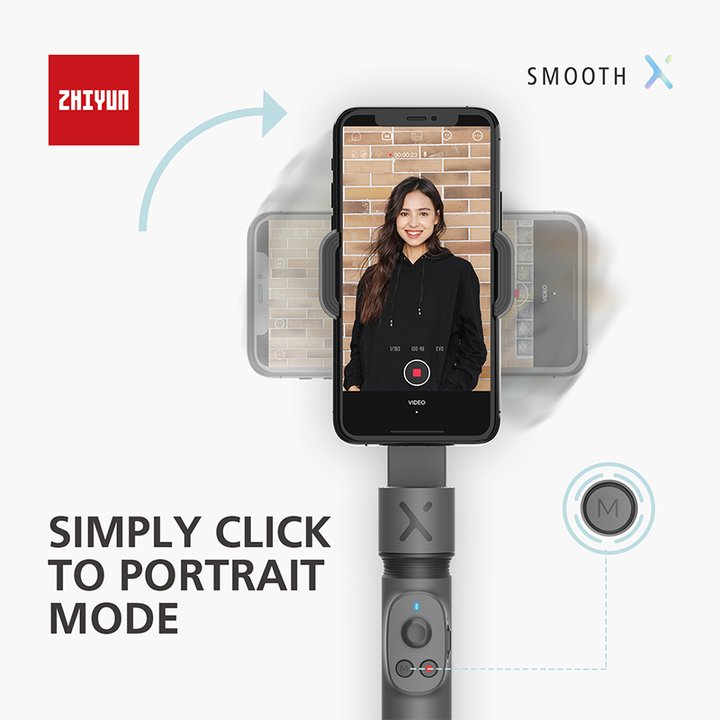 Convenient Transition
No matter you're a TikTok, Instagram talent
or a Streamer,"SMOOTH-X Quick switch from
landscape mode to portrait mode by double
click the mode button

 

Gestures Control
Now taking a photo or recording a video is as easy as
showing a V gesture or waving to the camera with your palm

Intelligence Object Tracking
Simply select the desired object and let SMOOTH-X do the rest,
always keeping you in view so that you'll never walk off-screen!
and ruin the almost-done shots.

 

Unlock Smart Filmmaking
No more tedious filming and editing.
The new SMART Mode offers a plethora of built-in templates integrated with customized movements, music, and other special effects. Now, everyone can be a master of filmmaking.
Directly Control Your Native Phone Camera
After Bluetooth Conection, you can directly Control Your Native Phone Camera or
other Beaty Cam App in your phone.
(Notice: Registration by ZY Cami App is required for first use)

*180° panoramic shots is bulided in ZY Cami APP

 
*App For Awesome Edit- Professional editing software now is built-in ZY Cami.

 

ZY Cami Compatible List
Requires iOS 10.0 or higher.
ompatible with iPhone Xs Max, iPhone Xs, iPhone XR, iPhone X, iPhone 8 Plus, iPhone 8, iPhone 7 Plus, iPhone 7, iPhone 6s Plus, iPhone 6s, iPhone 6 Plus, iPhone 6 and iPhone SE

Android 7.0 or higher is required.
Compatible with HUAWEI P20, HUAWEI P10, HUAWEI Mate 10 Pro, HUAWEI Mate 10, HUAWEI Mate 9 Pro, HUAWEI Mate 9, Honor 10, Honor 9, Vivo NEX, Mi MIX 2S, Mi 8, Mi 6, OnePlus 6T , OnePlus 5T, Google Pixel 2 XL, Google Pixel 2

* The list of supported devices will continue to be updated without notice.
Contact US to know more information
Like our facebook page and send us message to reserve yours